Tacoma Paper Shredding & Storage
Tacoma Paper Shredding & Storage is dedicated to helping you find the most cost-effective and secure solutions for your office and home. Your information is important and deserves the highest level of security. We help businesses all over the Tacoma area comply with Washington and federal privacy regulations, like HIPAA and FACTA.
About Tacoma Paper Shredding & Storage
Tacoma Paper Shredding & Storage offers numerous shredding service options designed to meet your requirements at reasonable prices.
We are prepared to meet your destruction needs at every level. Whether you need a "one-time" purge for an end of the year job or need a monthly shredding service for your Tacoma based business we can help. Our goal is to get you excellent security with competitive rates.
To learn more about the secure shredding services at Tacoma Paper Shredding & Storage, just give us a call at (253) 292-3686, or request a FREE quote today.
Route Service – Daily, weekly, or monthly scheduled shredding services are available. Secure, locking shred bins are provided at no charge.
Purge Service – For those requiring annual, one-time, or occasional shredding service. Shredding services can be done on or off site. Prices are based on volume shredded.
Certified Service – Every shredding job gets a certificate of destruction delivered by the shredding company.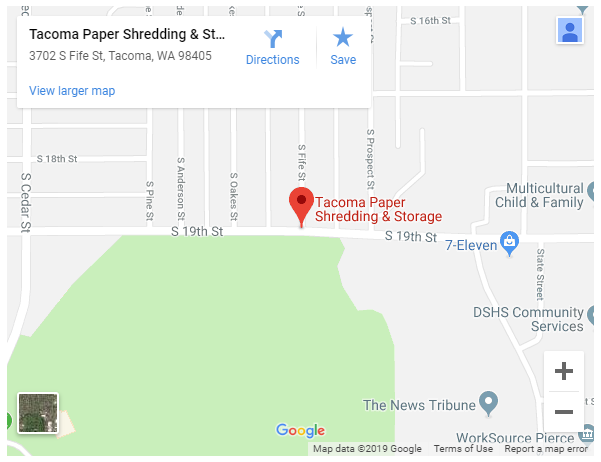 Let us help you protect your information today.
Tacoma Shredding Services